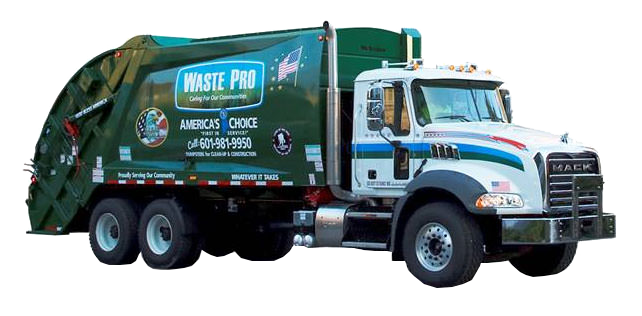 Santa Rosa County Administrator Dan Schebler on July 16 placed Environmental Manager Andrew Hill on a 10-day unpaid suspension and issued a letter of reprimand to Environmental Director Michael Schmidt, stating they had failed to effectively manage and enforce the Waste Pro contract.
In May and June 2021, the County conducted an internal investigation into multiple complaints regarding the operations of the solid waste division: CLICK HERE TO READ ORIGINAL STORY ON WASTE PRO ALLEGATIONS
Per Schebler's related Notice of Actions to the employees, that investigation concluded there was a lack of operating procedures, effective communication between staff and the contractor and "a positive working relationship which caused a perception of favoritism and mistrust that the contract was being fully enforced."
Schebler pointed out that during the process to amend and renew Waste Pro's January 1 Residential Solid Waste and Recycling Collection Franchise Agreement there was "a lot of time spent considering contract compliance and enforcement."
Toward that end, the amended agreement provided for fines for performance failures, such as missed trash pickups or spilled hydraulic fluid.
"The Board of County Commissioners and senior leadership provided specific expectations for the compliance and enforcement of this amended agreement," said Schebler. "As the Environmental Manager you are responsible for the effective daily management and enforcement of all the department's contracts. The lack of follow through and oversight provided on this contract has caused senior leadership to have a reduction in confidence."
But Schebler then praised Hill for "stepping up" to be "part of the solution" to fix the identified issues and showing "a desire and the ability to correct this deficiency." Schebler said Hill had produced a "sense" that confidence can be restored.
"As a result of the investigation, you will be suspended without pay for two weeks beginning on July 19, Any future occurrences of this nature will likely result in further disciplinary action up to and including termination of employment," stated Schebler's Notice of Action.
On the heels of the Waste Pro issues coming to light and following the county's failure to apply for state road funding, Schebler submitted his resignation July 13. His replacement will be discussed during Thursday's commission work session.
The whistleblower in the Waste Pro allegations, Natasha Borneo, yesterday submitted her resignation letter to the county. That verbatim resignation follows:
"I would like to take this opportunity to resign my position effective July 15th 2021 with no further compensation as the Waste Compliance Supervisor having full knowledge that I was retaliated against by the County Administrator, Assistant Administrator, County Attorney, HR Director, the Environmental Director, the Environment Manager and his staff and the IT Director and his staff because I filed a Whistle-blower claim.
The people mentioned above have involved me in a Fraudulent Inducement of Employment. This is based on the false statements of Andrew Hill during my interview and hiring process. This was further compounded by the actions taken by all the individuals above based on the records released by the Independent Attorney Michelle Anchors in her unfinished investigation.
Ms. Anchors was not allowed to complete that investigation by the directions given by the County Attorney and County Administrator in my opinion to continue to delete the evidence that will potentially implicate them all. This is all documented as Public Record and can be reviewed if necessary. I have also reviewed public statements made at the last BOCC meeting by the commissioners who sat on the board and their actions and words further impacted this decision.
This retaliation even went further into a hostile work environment when the HR Director decided to use her position to coerce long term staff who also had an active role to obscure the injustice inflicted on the citizens of Santa Rosa County into fabricating false statements to discredit me. It is also my belief that the HR Director used her position as a gateway that encourages and uphold the rampant high level of Systemic Racism that plagues Santa Rosa County and transmuted this behavior during my hiring process as she used my Afro-Caribbean Ethnicity to check a box and include me as part of their long running statistics and not my high work ethics and professional experiences.
In hindsight the only thing I did wrong was accept a job that I know I would be able to excel in with my extensive high level of customer service experience, my drive and dedication and my desire to serve my community. My goal was to only help resolve the on-going waste issues the citizens of Santa Rosa County have been forced into under the alleged illegal no bid contract the County choose to enter into with WastePro.
I represented the County well every time I approached my job and I assisted, communicated and resolve most customer issues as efficiently and effectively as I could but this process wasn't always easy as I never had the support of the individuals above. I now know I was never a part of their team.
It is noticeably clear and evident that the people above have never experienced anyone with my work ethics and professionalism. They did not value the level of experience I bought to the table and decided to suppress that desire for excellence with tactics I know will be uncovered upon further investigations.
It will be beneficial if the people mentioned acquire the required employment law training necessary so that they do not continue to violate those laws, especially protected laws in the future.
I chose to submit this letter publicly as I also wanted to add that the reason this was important to me is because I know, I saw and I understood what the citizens were subjected too, and I tried for months to get the help necessary to right the wrong, but all I got was attacked and discredited and my life and my family's life have been upended forever.
I would also like to apologize as I feel like I have failed the citizens of Santa Rosa County because I could not do more.
Thank you to everyone who open their doors and their homes to me, for treating me with respect when I rang your doorbell in the middle of the day to check on your waste issues. I appreciate your support more than you'll ever know.
Sincerely,
Natasha Borneo.
Following are the Notices of Action from Schebler for Hill and Schmidt: